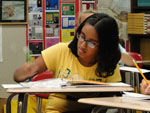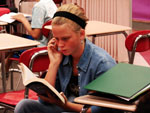 Foundations, like the name implies, focuses on developing the literacy skills and strategies that are the foundation for other disciplines. Both seventh and eighth-grade Phoenix students take Foundations for the entire school year.
Instruction and practice of any of the following may take place during this class period:
Reading Strategies
Vocabulary Development
Writing Skills
Mathematical Skills
Research Skills
Technology Skills
Media Literacy
Study Skills
Test Taking Strategies
Learning Styles
Communication Skills
Organizational Skills
Executive Function Skills
Financial Literacy
These skills and strategies will not only help the students in all classes but in life situations. They are the foundation for all learning.