We're delighted that you're interested in applying to Phoenix
Phoenix Middle School houses approximately 85 seventh graders and 80 eighth-graders and is staffed by 18 full-time teachers and support staff. Our school is based upon the integration of a core curriculum with critical thinking, global education, arts, wellness, and community interaction. This is achieved through collaboration among the staff members, who work extensively to combine, streamline, and enhance the traditional middle school curriculum to make each student's educational experience as meaningful as possible.
Each year, we review our process for the Phoenix Middle School lottery. As we prepare for the 2021-2022 school year, we will be drawing a total of 84 students from the current 6th-grade class to 7th grade next year.

In the past, we've pulled names proportional to the student count of each home middle school. As we continue to grow across our district, we are changing our practice to provide a more balanced ratio of home school enrollment to lottery numbers. This will ensure more equity in the lottery.

On December 1 of the preceding school year, and every year after, the district will obtain a "live body" enrollment count of each home middle school based on actual attendance in the school. This will NOT include students who are open-enrolled from another school boundary. Also, separate lists will NOT be created by gender. Note, Perry Middle School enrollment will be based on the following elementary schools: Bluffsview, Brookside, and Slate Hill Elementary Schools.

Based on the ratios, the number of students from each home middle school will be derived from the percentage of the total grade level. This information will be posted to the building website on December 1. These will be the numbers used for the lottery in the Spring; no adjustments will be made on updated enrollment numbers.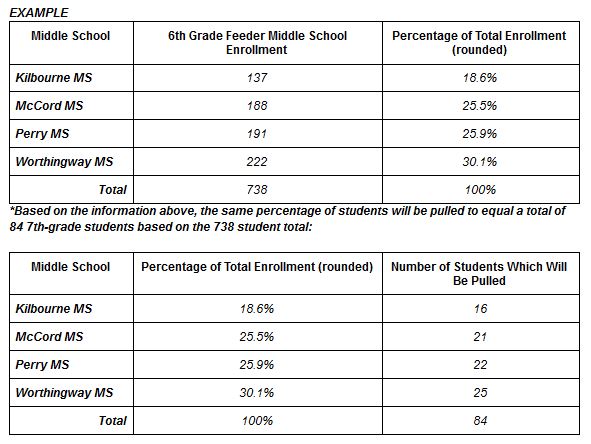 ACTUAL - To Be Determine on December 1, 2020