We're delighted that you're interested in applying to Phoenix.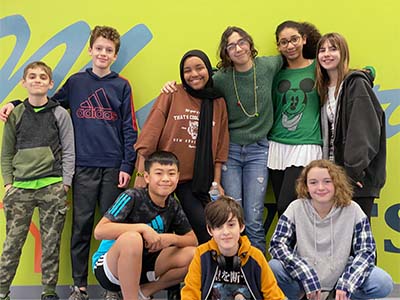 Phoenix Middle School is a public middle school located in Worthington, Ohio, a suburb of Columbus. It was founded in 2007 to provide an innovative, value-added curriculum for students in grades 7 and 8. The school has around 85 students in each grade and is staffed by 14 full-time teachers, as well as various part-time staff and administrators. Phoenix Middle School follows a Mastery Learning approach, which integrates core curriculum with critical thinking, global education, fine arts, wellness, and community interaction. The school's programs and activities are designed to align with its foundational pillars of intellectual discipline, global awareness, creative expression, wellness, and character. Teachers at Phoenix Middle School work together to combine, streamline, and enhance traditional middle school curricula to provide a meaningful educational experience for all students.
Overall, Phoenix Middle School is a welcoming and supportive learning community that is dedicated to helping students succeed. With its innovative curriculum and supportive staff, Phoenix Middle School provides students with the skills and knowledge they need to succeed in high school and beyond.
Each year, we review our process for the Phoenix Middle School lottery (2023/24 selection guidelines). As we prepare for the 2023-2024 school year, we will be drawing students from the current 6th-grade class to fill the Phoenix 7th grade new 7th-grade class.
---
How to Apply:
Review the Phoenix Website

To learn more about Phoenix, please review the information in the "About us" and "Academics " sections of our website. Feel free to contact us with any questions.

Attend Information Meetings

It is imperative that prospective students and families understand the many aspects of the Phoenix program before they decide to apply. Therefore, we expect all families considering Phoenix to attend at least one of the information meetings
(both parents and students are encouraged to attend).

Important dates for the 2023 / 2024 school year:

Friday, January 06, 2023 - Phoenix MS Application Opens.

Friday, January 13, 2023 - Phoenix MS information letter will be sent to Worthington 6th-grade families.

Tuesday, February 28, 2023 - In-person and Zoom Family Informational Meeting (6:30 PM - 8:00 PM) - @ Phoenix MS

Saturday, March 04, 2023 - Open House for Prospective Families (Saturday 10:00 AM - 12:00 PM) - @ Phoenix MS

Wednesday, March 08, 2023 - Phoenix Discovery Night (6:30 PM - 8:00 PM) - @ Phoenix MS

Friday, Mar 24, 2023 -

Phoenix Lottery Application Deadline (4 PM)



Wednesday, Mar 29, 2023 - Phoenix Lottery - @ Worthington Education Center

Complete and Submit the Application

To apply to be a Phoenix 7th grader for the 2023-2024 school year, parents/students must complete the online
application and submit it no later than Friday, March 24, 2023, at 4:00 pm. Students that have submitted completed applications on time will be entered into a lottery and randomly selected on Wednesday, March 29, 2023. All students not selected will be placed on a waitlist. Worthington School officials reserve the right to remove any application that is incomplete.

---
---
The Lottery Process
The Phoenix Middle School lottery is conducted at the district level; not the school. All questions about the lottery process should be referred to Susan Withers (

This email address is being protected from spambots. You need JavaScript enabled to view it.

) at the Worthington Education Center; not Phoenix Middle School.

Students will be drawn from the lottery by neighborhood schools. To be eligible, students must be residents in the Worthington School district when school begins in the Fall of the upcoming school year. The lottery will be live-streamed. Students are NOT required to be present at the lottery on drawing day to be eligible for a spot.

Worthington Schools will contact Families to confirm admission.
---
7th Grade Waitlist Practices
Students not selected in the lottery will be placed on a waitlist by home middle school. If a student who is selected in the lottery declines the spot, students from the waitlist will be contacted and offered spaces until all are filled.

Waitlist calls will be placed based on home school. If a student declines, the next student on the waitlist will be contacted.

If the waitlist for a single middle school is exhausted, enrollment numbers from the other two middle schools will determine the next waitlist.

Students remaining on the waitlist will remain on the list through their 8th-grade year.
---
8th Grade Waitlist Practices
Phoenix staff may begin to contact the 8th-grade waitlist once enrollment numbers for the class go below 80 students.

The first waitlist that will be contacted is the home middle school of the student leaving. If a student accepts a position, the process will stop.

If all members from the home middle school waitlist have declined, Phoenix enrollment numbers from the other two middle schools will determine the next waitlist.
---
Enrollment Exceptions
Due to our unique schedule, we allow current Phoenix families with a student who is currently enrolled at Phoenix as a 7th grader (moving to 8th grade) to have automatic admittance for an incoming 7th-grade sibling. [Please Note: Even if a 6th grader has a sibling who is currently enrolled as a Phoenix 7th grader, they MUST complete and submit an application. Students without applications WILL NOT be entered in the lottery regardless of whether their sibling is in the current Phoenix 7th grade class.

Families with multiple students in the same grade and in the same household (ex. twins, steps) can submit a separate application for each student. In the case that a student from that household is selected, offers will be extended to each additional student for the upcoming school year but each additional student will not take any seats away from other students in the lottery.

All seventh-graders attending Phoenix in the 7th grade will automatically matriculate into the eighth-grade class.

The children of Phoenix staff can be added to the new class after an application is submitted. The Phoenix staff's students do not take any seats away from other students in the lottery.
---
Final Notes
After the lottery has been completed and we have our new 7th-grade class, we will host our new students at Phoenix MS for an Orientation/Open House. Parents will need to provide transportation to and from Phoenix that morning. More information will be provided to students who are selected.


We will also hold New Parent Orientation/Acceptance. More information will be provided in the future.
---
If you have questions about the Phoenix Middle School program, please email Sean Flynn (

This email address is being protected from spambots. You need JavaScript enabled to view it.

) or Chrissy Cavaluchy (

This email address is being protected from spambots. You need JavaScript enabled to view it.

)


If you have any questions about the Phoenix Middle School lottery, please email Susan Withers (

This email address is being protected from spambots. You need JavaScript enabled to view it.

).

We look forward to meeting you and your 6th-grade students during our recruitment process this spring!
The Phoenix Middle School Staff